Special Programme
Q: Why is Boll strong?
Final Episode: Message from Timo Boll
Timo Boll (GER) ascended to the World no. 1 spot in March 2018. Young players have distinguished themselves one after another recently. Table tennis has continuously experienced various rule changes but despite all the changes why does his strength not fade away in this age of intense rivalry, even at the age of 37? It is more than just thinking that "He is special."
This time we would like to cast a spotlight on the topspin attacking play from both wings after a topspin loop,
the style that symbolises Boll.
It is important to improve both wings equally.
However, when the ball is returned to the middle of the table, try to use your forehand.
As explained in the last five episodes, the equally effective quality topspin loop from both wings is Boll's biggest strength. First, let us consider his thoughts towards the stroke on both wings.
"Table tennis is becoming too fast to use just one side, so you have to play from both sides at a high level. I think the best players in the world can play almost equally from both wings. You cannot have any weak points in your game to become strong, so you have to practise forehand and backhand with the same attention."
"If you have the choice, try always to use your forehand. It's always more powerful and you can place it more easily. If you have time to choose what you can play, especially in the middle, try to use forehand."
Coaches and players in unison follow the way of thinking, just like that of Timo Boll. He uses his forehand at every opportunity, especially from the middle of the table, the stroke is accurate and is very much in line with modern day thinking. Following this policy enables Boll to keep at the top of his sport.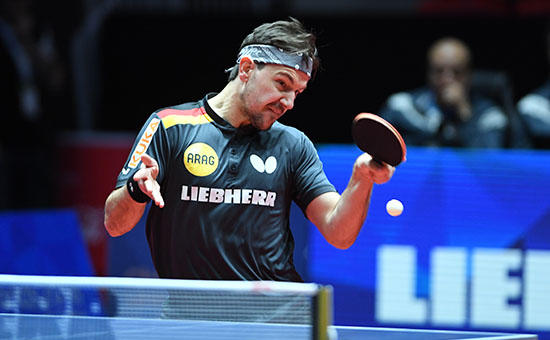 Message from Timo Boll
Be responsible and put effort into practice with 100% concentration
We conclude with a message from Boll to the players who aim to be stronger and benefit from the advice of his simple but pertinent words.
"You have to use every chance and every exercise to become better. I remember when I was young, it was tough to always be focused but you have to get used to it, to be always sharp to always give 100%."
"Don't blame it on any other person. If you feel tired or if you have maybe a small crisis when you don't play well, it's always up to you, not anybody else. So this you have to realise and then you will feel more responsibility to push yourself. This is quite important to have the special focus on training and be always at the limit."
"Only practice when you are 100% there because otherwise you will teach yourself some bad habits and you will get used to these bad habits and that's the worst thing that can happen. So always practice at a high quality. If it is not possible, which sometimes happens, do something else, maybe physical training or just rest."
To practice with 100% concentration even though he cannot play as he expects; Boll has honed his skills over the years and no doubt will stay at the top of the world for years to come.